OUR STORY
A Tasmanian family owned  vineyard and cellar door operated and managed by father and son Glenn & Alex Travers.
Craigie Knowe is the oldest vineyard on the East Coast of Tasmania. Our first vines were planted in 1979, by then Hobart dentist John Austwick. He was such a pioneer of the time, with many local farmers thinking he was crazy, but they quickly realised John was onto something and planted their own vines.
A passionate Bordeaux Blend Cabernet fan, John initially planted Cab Sauv, Cab Franc, Merlot and Petite Verdot, but Pinot Noir and Riesling soon followed. He made his own wine on site in what is now the Cellar Door, and built a great reputation as an exceptional cool climate winemaker. Look at the 7:30 report interview with John Austwick & Julian Alcorso
Our connection with the East Coast of Tasmania and the cellar door experience commenced with a mini break in January of 2013.  A precious 3 night stay encompassed the usual tourist hot-spots including a few cellar doors.  Whilst driving through Cranbrook we made a couple of remarks to each other…"Fancy giving a place the size of this a name" (quite funny as we now love living in this little hamlet off the Tasman Highway)…AND…"wouldn't it be nice to semi retire to a vineyard some day".  We often laugh about both these comments, not least because we certainly haven't semi retired, but rather work as hard as we've ever worked.  Of course with a passionate tree change such as this it often doesn't feel like work as it would if we were in a traditional retail business.
I guess when we arrived at Craigie we felt much like the early settlers must of felt; we had chosen to have the courage to seize an opportunity, we had a vision, dedication, business skills and a willingness to work hard BUT with mild trepidation about "was that going to be enough" to create what we were seeking to do.
I guess John Austwick must have been a bit the same so it's quite fitting that we now find ourselves the current custodians of this little piece of paradise on the Freycinet Coast.
From the start, we wanted to build on the strong foundation John had built… to pay homage to his passion and hard work. With no grape growing experience, this wasn't easy, but with grit and a willingness to learn and ask questions, we soon developed the expertise to justify our leap of faith in each other. We love the fact we are surrounded by so much history. Our home and other outbuildings were built in the 1840's by the original settlers of the area, and whose relatives still live on either side of us.
We still grow the original varieties John planted, and in 2017 took on a long term lease of a small vineyard less than 2 kms away. At our Glen Heriot site, we grow Pinot Gris, Chardonnay and more Pinot Noir (to create our white Label Pinot Noir, Pinot Gris and Pinot Noir Rose).
Our philosophy is to grow exceptional fruit so our winemaker can weave his magic with minimal intervention. We do this by being meticulous in the vineyard, following the advice of our viticulturist and Alex and learning as much as we can…the little things really do make a difference.
We're sure you'll enjoy our wines as much as we do, and look forward to you visiting us soon.
Warm regards
Glenn and Alex.
Open Everyday except Wednesday 11:00am – 4:00pm
Patisserie temporally closed until further notice
For purchases of 6 bottles or more we are offering free freight to anywhere in Australia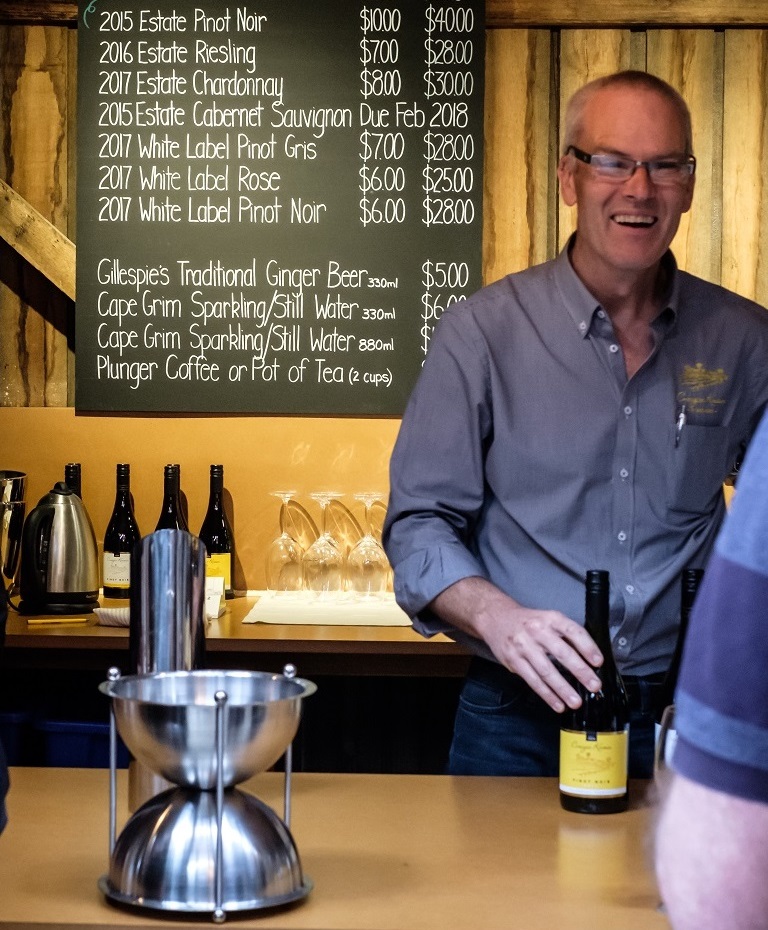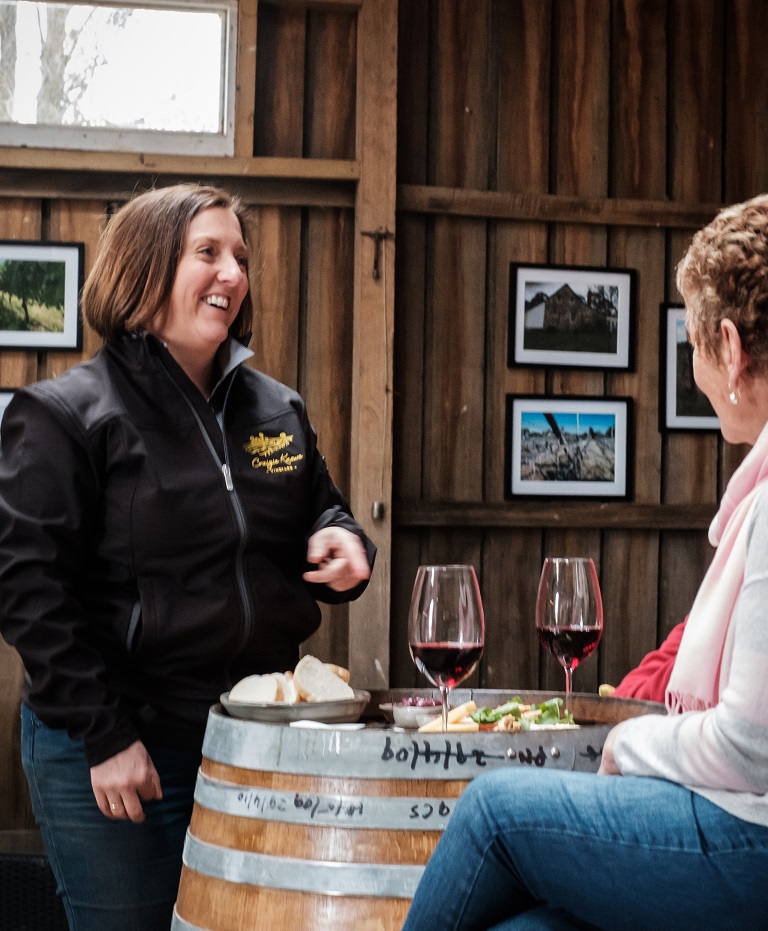 OUR TEAM
We are very much a family run vineyard.  The two of us ( Glenn and Alex) work full time across all aspects of the vineyard and cellar door.